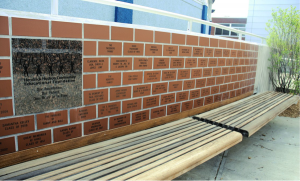 Our Foundation, Our Future  –  One Brick at a Time
Learn more about the HHCEF Tribute Brick Wall.
Instructions:  Fill out the online form below to order one or more HHCEF bricks.  Inscriptions may be up to 3 lines, 15 characters per line (including spaces), with words limited to names, dates and phrases such as "in memory of", "the family of" or "in honor of".  If necessary, the HHCEF reserves the right to arrange words to maintain balance with character limitations.
 After submitting your online brick form, click on the PayPal button below to purchase your brick(s).
Purchase a Brick – $100 each
Thank you for supporting the HHCEF!!