This slideshow requires JavaScript.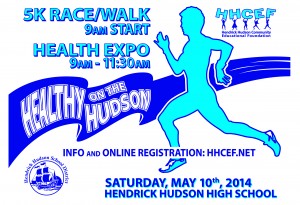 May 10, 2014 on the Hendrick Hudson High School Campus
The HHCEF Healthy on the Hudson 5k Race/Walk is a challenging and scenic course through historic Verplanck to support education in the Hen Hud community, followed by a health expo with fun activities and food and product demos promoting a healthy lifestyle
Race/Walk Route and Event Info
Race/Walk Route:
9:00 am Start at the corner of Harper Ave. and Trolley Rd. in Montrose
Head west on Kings Ferry Rd. entering the hamlet of Verplanck
Turn left (south) on Broadway, continuing to Riverview Ave.  (Water station is located at this intersection.)
Bear left onto Riverview and enjoy spectacular views of the Hudson.
Turn right onto Kings Ferry Road and continue on to the Finish (same as Start).
CLICK HERE FOR MAP OF RACE ROUTE
Event timing:
by Fast Finishes
A timing device will be attached to your race number which must be removed and attached to your shoe prior to the race. All participants must wear the tag in order to have their times recorded. Children 12 and under must be accompanied by an adult.
Health Expo:
Free refreshments will be available in the Hendrick Hudson High School Gym following the race.  In addition, there will be a health expo on the high school campus featuring healthy food/cooking demonstrations, sampling and sales and healthy lifestyle product demos and information.  All are welcome to attend and entrance is free of charge. Enjoy food samplings from local vendors, a children's obstacle course, a visit from the Westchester County Fit Mobile and much, much more.
Children's fun run – 10:00 am on the high school track.  The entrance fee is $5 day of only and sign up is on the track from 8:00 – 9:30 am.
Registration:
Pre-Registration
$25 Adults (19 and over)
$15 Students & Seniors
Teams:  $20 Adults, $10 Students & Seniors (team name is required when entering)
Race Day Registration
$30 Adults (19 and over)
$20 Students and Seniors
Check-in:
When:     8:00– 8:45 am Saturday, May 10
Where:    Next to the Hendrick Hudson High School track
Awards:

Overall 5k male and female, 1
st
, 2
nd
and 3
rd
place in the following categories:
14 and under                          30 – 39  
15 – 19                                   40 – 49
20 – 29                                   50+                                                            
About HHCEF
The Healthy on the Hudson 5k Race/Walk and Health Expo has become a major source of funding for the Hendrick Hudson Community Educational Foundation.  The HHCEF is a 501(c) (3) nonprofit organization dedicated to supporting educational activities benefiting the citizens residing within the boundaries of the Hendrick Hudson School District. Since its establishment nearly a decade ago, HHCEF has granted over $220,000 to fund educational initiatives throughout our community.
We are extremely grateful to our community and our corporate sponsors for their continued generosity and support.
Please join us to rev up your health and help make a difference in the education of our students and community!