The HHCEF has received countless thank-you's over the years from our grant recipients.  We truly appreciate hearing from each and every one of our grantees – knowing that we have made a difference energizes us to continue to do all we can to support education in our community.
Here are some of the kind words we've received from our recipients:
 2015
Jessica Nash, HHHS Art teacher:  "Art students, Art Honor Society members, and Yearbook club members have all had the opportunity to use the "Digital Art" lab in my room this year thanks to the HHCEF's generous technology grant. Students have learned to photograph subjects using professional lighting and enhance their backgrounds using a green screen program. The set of computers are used on a daily basis for project research, scanning, creating artwork in Photoshop, and blogging about art."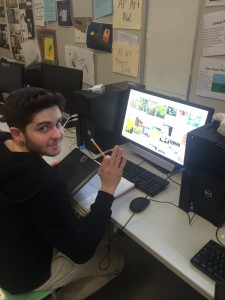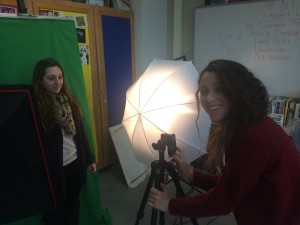 AP Art students in the new Art Lab funded by an HHCEF Innovation Grant
 Buchanan and Verplanck Senior Citizens Clubs, represented by Virginia Rederer, member of the Buchanan Senior Citizens Club and former Hen Hud Superintendent, and Regina Keefe, Second Vice President, Verplanck Senior Citizens Club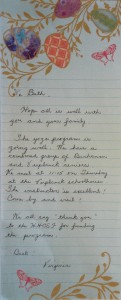 Thank you letter from Virginia Rederer  (click on image to zoom)
The Buchanan and Verplanck Senior Citizens Clubs wrote a joint grant application to the HHCEF asking for funding for a chair yoga program.  We were thrilled to receive and approve this collaborative grant, which funded a yoga instructor who educated our seniors on the importance of exercise and flexibility.  Classes were recorded so that the program could continue after work with the instructor ended.
2011
Jennifer Morrissy, HHHS Art Teacher:  "I just want you to know how fantastic it has been to have the digital cameras for my classes.  The animation project is something that my Studio in Art students are really loving.  Even students who have been somewhat disaffected in the past are all over it.  What a boon to have this technology and equipment to engage my students in a contemporary way that speaks to their generation."
2010
Marisa D'Itri, FGL Kindergarten teacher:  "Last year I was awarded a grant by the HHCEF to help revamp the FGL kindergarten playground. I am proud to say that the project is complete and I am thrilled with the results. Thank you again for helping make this possible and I hope you enjoy the digital thank you!"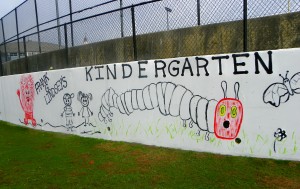 Digital thank you:  FGL Playground Stencils  (click to play)