HHCEF is CELEBRATING its 20th YEAR!

2015 marks the 20th anniversary of the Hendrick Hudson Community Educational Foundation's formation – the beginning of its enduring commitment to improving education for all members of the Hendrick Hudson community.
In 1995, a group of concerned District parents and community members formed the HHCEF in order to raise and grant funds within the Hendrick Hudson community for educational initiatives that go "above and beyond." Over the years, we have become known for hosting events that bring the community together, like the Harlem Wizards vs. Hen Hud All-Stars basketball game.
Our grant program has had a significant impact throughout the District, in all five schools, and in the community, on organizations like the Hendrick Hudson Free Library. The HHCEF has donated funds for music programs; Project Lead the Way engineering and biomedical courses; technology improvements; athletics; art electives; teacher training – the list goes on and on.
Scroll down for a list of our recent grants.
Please help us to continue funding exceptional educational initiatives in the Hendrick Hudson community in the years to come!
To donate to the HHCEF, click on the secure link to PayPal above or click on the link below to access our 20th Anniversary Annual Appeal mail-in form.
20th Anniversary Annual Appeal Mail-in Form
The HHCEF Tribute Brick Wall
This slideshow requires JavaScript.
Two ways to order:
__________________________________________________________

Like us on Facebook
Congratulations to our 2015 Senior Scholarship Award Recipients!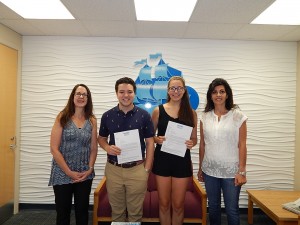 2015 HHCEF Scholarship Recipients Jazz Munitz and Emily Aurand with Board members Beth Gruber(left) and Lisa Tieche (Click on image to zoom)  Click here for list of past recipients
2015 HARLEM WIZARDS V. HEN HUD'S ALL-STARS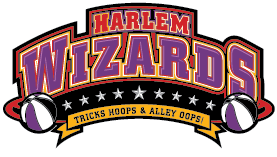 ________________________________________
Multidisciplinary Puppet Production of "Chato's Kitchen" Funded by HHCEF Grant
Click here for story and slideshow on Hendrick Hudson School District's website 
2015-2016 HHCEF Grant Program
Grant Cycle Deadlines
Fall Grants – $1,000 each                                      November 1, 2015
Spring Grants – $1,000 each                                        March 1, 2016
2015-16 Update: We will not be awarding Innovation in Education grants this year.

2015 Fall Grant Awards

Safety goggles for the Project Lead the Way Biomedical Science courses at Hendrick Hudson High School.
Funding for the printing of competition posters and the annual newsletter of Hendrick Hudson High School's Science Research Program.

2015 Spring Grant Award

Crossover training equipment for the Blue Mountain Middle School gym to be used in gym classes and after school by modified sports teams.

2014 Fall Grant Awards

Chair Yoga sessions led by a professional yoga instructor for the Buchanan and Verplanck Senior Citizens. This 10-week program will be video-recorded for continued use by the seniors in the years to come
"We Are Readers!" program at Buchanan-Verplanck Elementary School. Funds will be used to purchase 'We Both Read' books featuring an interactive format with age-appropriate text on one page for a child, and more sophisticated text for a parent, teacher, or older child on the facing page
iMac computer for the new high school recording studio to supplement the equipment HHCEF funded in 2013.  Students use the studio to record music CDs and to film "Inside Hen Hud," the high school's new video news show, available for viewing on the district website, www.henhudschools.org

2014 Spring Grant Awards

Laptops for Free Computer Education classes at the Hendrick Hudson Free Library, teaching basic internet skills, word processing and Excel via small group instruction.
iPads for the ABC (Academics, Behavior and Communication) Program to be used to enhance and track student progress in language, behavior and motor skills and build functional skills in ABC. Teachers and students will use speech apps, video modeling, iTunes.
Collaborative Art and Language Dept. Project - Hendrick Hudson High School Spanish language students, under art teacher supervision, will create a large paper mural modeled after Picasso's Don Quixote using Sharpie markers. The finished mural will hang in the Guidance hallway.
Community Building through Art and Literacy, puppetry and storytelling workshops featuring collaboration between Hendrick Hudson High School art students and elementary English language learners using the bilingual children's book, Chato's Kitchen
Supplies for Teach Yourself Friday, a Blue Mountain Middle School Computers class segment allowing students to explore an area of interest through internet research, using tutorials to teach an application or skill not otherwise in the curriculum.

2013 Fall Grant Awards

CD-Rom versions of Rosetta Stone for English for Hendrick Hudson High School ELL Learners
MIDI controller, microphones and other recording equipment for the new high school Recording Studio
Plasma television for the Mac lab at the high school

Hendrick Hudson High School's BAM (Band of Ambitious Musicians) Club in the new Recording Studio

2014 Innovation Grant Award

Digital Art Studio at Hendrick Hudson High School to support projects in photography, portfolios, graphic design, yearbook, and video.  The studio would be used by all art classes, the yearbook club, and a planned digital photography club.  This grant builds on our 2012 Innovation in Education grant that funded the creation of new technology-rich art electives at Blue Mountain Middle School.

2013 Innovation Grant Awards

20 Chromebooks and storage cart for the Alternative High School
2 Exercise Rowers for the Hendrick Hudson High School Cardio Room
Reading A to Z Literacy software license for all elementary school teachers district-wide (matched with funds from the Peekskill Rotary Club)

2013 Spring Grant Awards

ELMO image projector for a Hendrick Hudson High School English class
Wound-stitching kits, chromatograhy kit and protein electrophoresis chamber for Medical Interventions, a course in the Project Lead the Way Biomedical Science sequence at Hendrick Hudson High School
A portable dry erase music staff board for elementary music instruction at Furnace Woods School